The Brewmaster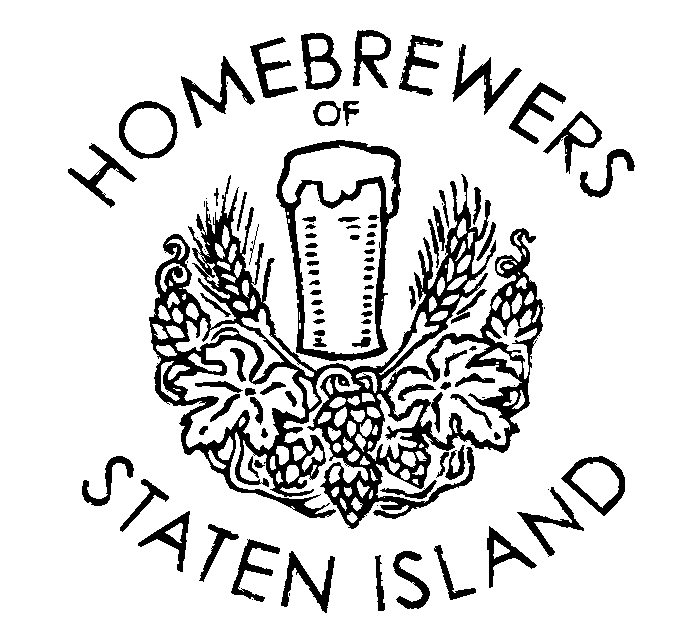 Homebrewers of Staten Island
Providing Brewing expertise to the Staten Island Community
Welcome to the November HOSI Newsletter
Welcome to the November issue of the Brewmaster, the official newsletter of the Homebrewers of Staten Island. Much has happened in the last month, so this issue should be packed full of semi-useful information!
Remember, this is YOUR club newsletter, so I will continue to beg, plead and nag for submissions for this publication. Send me your recipes, questions, and comments. We will use them all!
You can mail any articles to me @
Thomas C. Kolakowski
17 Kingsbridge Avenue
Staten Island, NY 10314
October's meeting was a very busy one. The primary business was the election of new officers. The elections were quick... decisive... and unanimous for all four elected positions. The results will follow in the next column.
The second issue dealt with was the financial situation of the club. With dues not to be collected until the January meeting, we find our coffers emptying fast! One suggestion, which unfortunately was undoable, was the Richmondtown Old Home Day.
New Officers Elected!
Tom Kolakowski Elected President
Running totally unopposed Tom Kolakowski (aka me!), was unanimously elected by those in attendance at meeting. Tom Cahalane was similarly elected to the illustrious position of Vice-president. Continuing in his position (after fulfilling his position with distinction) is Rich Casparie, as the club Treasurer. Filling out the slate of officials is Ted McIrvine as our club Secretary.
About Your New Club Officers
Tom Kolakowski - President:
Tom is the product of many generations of beer drinkers. He actually drank Mead as a teen, before sampling his first beer. After graduating from Fordham U. In 1986 I became an accountant. I started writing about beer for CSI's Student Newspaper, The Banner, in 1994. Shortly thereafter I began writing pieces for the Beer & Tavern Chronicle. I have been homebrewing in a limited fashion since 1990, making Beer, Wine and Mead.
Tom Cahalane - Vice President:
Tom has always been fascinated with beer. He "used stout as an antiseptic, bock as a slug trap, ale to fuel model airplanes and finally tried to make beer with seltzer, milk and eggs (Actually, that was his first attempt at an egg cream).
He was heavily influenced by Old Milwaukee, Shaffer and Schmitz. His first beer was a Reingold, the dry beer. He quickly graduated to Miller, and on occasion, Heineken (the pre-sunked beer ed: J ).
"Brewing my own beer has been a pain in the ass. Takes a lot of time, a lot of effort and nothing ever tastes as good as Sierra Nevada Celebration Ale or Spaten Optimator. You are always buying more equipment and many people ask, "Why don't you brew professionally?" [Editor's Note: I don't think anyone has ever had a bad beer brewed by Tom!]"
"Hobbied are, however, an important diversion, and brewing has also been a challenge. Since I have not been able to distinguish myself in the world of banking, I do feel a sense of accomplishment in opening a bottle. It's a labor of love."
"I have learned a few important things about brewing. Know the styles, drink them and brew them all and talk to other brewers. Hop pellets, artificial carbonation and only a passing interest in sanitation should be avoided. And lastly, take it very seriously!"
Rich Casparie- Treasurer:
[Rich was unavailable at press time!]
Ted McIrvine - Secretary:
Ted has been a homebrewer for about three years and has won prizes for Belgian Ales in the "Big Red" Competition and the 1997 HOSI competition. Ted teaches Music theory and musicology at CSI. He has a Doctorate from Indiana University, and performs with "The Festival Brass" and the Kingsborough Symphony.
November Meeting Info…
The September meeting is scheduled to be held at Schaffer's Tavern on Thursday Nov. 6th at 8:30pm..
Calendar of Events:
Nov. Meeting - Nov. 7th
Dec. Meeting - Dec. 4th
Chili Cook Off - Feb. 7th
Chili Cook Off at Pouch Camp
The club's next major scheduled event will be the Chili Cook Off, to be held on Saturday, Feb. 7th at 4:30 PM at Pouch Camp on beautiful Lake Orbach. This year's event is being organized by Steve Santoro (call 876-8425 for details). All are welcome at this event (all except kids and pets that is).
Prices are as follows:
$15/per person - Members
$25/per couple - Members
$20/per person - non-members
$30/per couple - non-members
Everyone is expected to bring Chili, another type of dish, or dessert. Also, bring firewood, as we will all need some warmth!
Volunteers are requested!!!!!!
Prizes will be awarded!
TomKo's Website & Snail-mail
You can reach me at my website at http://www.tomkobeer.com or at my home address:
Thomas C. Kolakowski
17 Kingsbridge Ave.
Staten Island, NY 10314-7218
You can submit any article, comment, or death threat to either address and be sure it will be received by yours truly!