The Brewmaster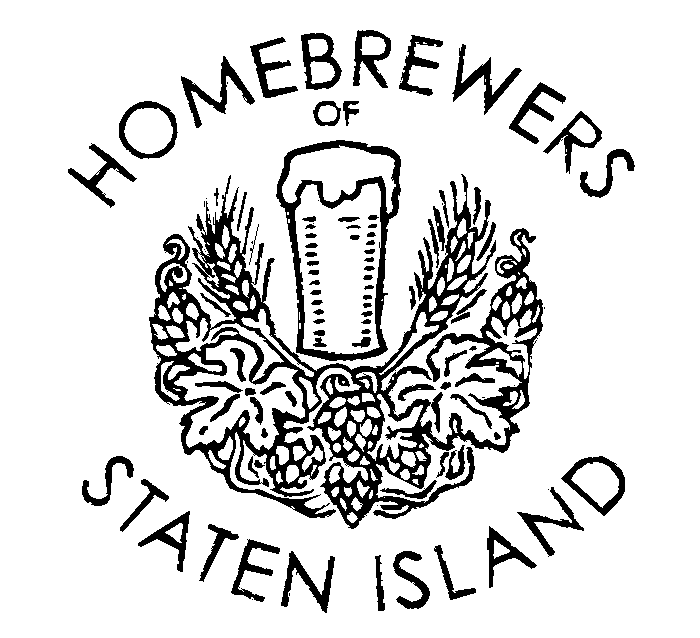 Homebrewers of Staten Island
Providing Brewing expertise to the Staten Island Community
Welcome to the December HOSI Newsletter
Welcome to the January issue of the Brewmaster, the official newsletter of the Homebrewers of Staten Island. Happy Holidays to all! December's meeting was highly attended with about 20 members in attendance. We would like to welcome the club's newest member, Robert Liander... it's always good to get new members!
As always I will continue to beg, plead and nag for submissions for this publication. Send me your recipes, questions, and comments. We will use them all!
You can mail any articles to me @
Thomas C. Kolakowski
17 Kingsbridge Avenue
Staten Island, NY 10314
Treasurer's Report
Rich Caspari reports that as of Dec. 4, 1997 the club's coffers stands at $109.50. Most club members in attendance paid at either the November or December meeting.
January Meeting Info…
NOTE: The January meeting is scheduled to be held at Killmeyers's Old Baverian Inn on Thursday Jan. 8th at 8:30pm.
Calendar of Events:
Jan. Meeting - Jan. 8th
Chili Cook Off - Feb. 7th
Homebrew Competition - March 22nd
Chili Cook Off at Pouch Camp
The club's next major scheduled event will be the Chili Cook Off, to be held on Saturday, Feb. 7th at 4:30 PM at Pouch Camp on beautiful Lake Orbach. This year's event is being organized by Steve Santoro (call 876-8425 for details). All are welcome at this event (all except kids and pets that is).
Prices are as follows:
$15/per person - Members
$25/per couple - Members
$20/per person - non-members
$30/per couple - non-members
Everyone is expected to bring Chili, another type of dish, or dessert. Also, bring firewood, as we will all need some warmth!
Volunteers are requested!!!!!!
Prizes will be awarded!
NYC Spring Regional Homebrew Competiton
This year's Homebrew Competition will be held on March 22, 1998 at Snug Harbor (1000 Richmond Terrace, SI, NY 10301). This year's site is even larger than last year's. We have this site from 8:30am to 5:30pm, which should allow ample time for both the judging and awarding of prizes. The event is being organized by the illustrious Ken Johnson
(E-mail: kbjohns@peakacess.net)
phone: 987-7202 evenings, for information.
Last year's competition drew 226 entries, including entries from as far away as California (so I have been told). Club members made an excellent showing, and we hope that even more people will enter this year's competition. So Start Brewing!!! Get those lager going folks.... time is running out!
We would like to thank our friends at Killmeyer's for letting us use the "smoking room" for last year's competition. Unfortunately, due to time constraints the awarding of prizes had to be delayed to another day.
John Palmer to Donate items to be raffled off at the Chili Cook-off.
John Palmer turned over his extensive announced that he will be donating a large number of brewing equipment he isn't using to be raffled off at the Chili Cook-off. This includes carboys, a grain mill, and other items he is no longer using. The club thanks John for his generousity!
All grain brewing...Why not ??? by Phil Bernie
Many homebrewers would really like to try all grain brewing but feel it's either too complicated or they think it takes a great deal of specialized equipment to make it possible. With a minimal purchase of a Phil's Lautering System or even just two five gallon buckets you can be on your way to brewing just the way it's done in the largest breweries.
Let's walk through an all grain pale ale together. To do this, you need the following items (assuming you have already brewed extract and have a kettle and fermenting vessels): Phil's Lautering System or double bucket ( tiny drain holes drilled in inner bucket)
· Large insulated picnic cooler
· Five to eight gallon boiling kettle
· 10 lbs. crushed pale malt
· 8 oz. crushed crystal malt
· 1 1/2 oz N. Brewer ( or similar alpha Hops )
· 1 1/4 oz. Fuggle, Willlamette, or Kent Goldings Hops
Directions: Place 3 3/4 Gal. of cold water into boiler and heat to 165 deg.
then add all the crushed grain. This should stabilize at around 152 degrees.
Pre heat picnic cooler by running hot water through it, then immediately add the contents of your kettle to the cooler, cover and let it sit for at least 1 hour. While mashing is taking place, start bringing 5 Gal. sparge water up to
170 Deg. in your boiler...After 1 hour pour the 5 Gals. of 170 degree water into the bucket (Phil's) with siphon hose attached, and scoop contents of picnic cooler into Phil's false bottom bucket and start sprinkling the 5 gals of water over the top while slowly collecting wort from false bottom bucket into your boiler. Once all your wort is collected, boil as you would with extract, adding N. Brewer hops for 1hour and half the flavor hops 20 minutes before the end of the boil and the rest at the end of the boil... Cool, aerate and pitch your yeast as usual.
"Why go through all this trouble ?" You may be asking yourself this very same question. Maybe it's the fact that for $34 you can buy a 50lb. bag of grain which would make 5 average batches as opposed to $100 worth of extract for the same number of batches. Maybe it's the fact that you can achieve a brewery fresh taste that you cannot get with extract. Maybe it's just the because the process is so damned fascinating! ......Whatever the reason is, I know only this........many brewers in the club have tried making all grain brews, and none of them have ever gone back to making extract!
KIELBASA & ONIONS
by Jeff Lewis
2 Lbs. Kielbasa ( 1 large ring )
3 Cups Beer ( 2 bottles, any style )
2 Large Onions, sliced
4 Tablespoons Olive Oil
1 - In a large pan, sauté the sliced Onions in 2 tablespoons of Olive Oil, until they become translucent. Remove from pan, and reserve for later.
2 - Cut Kielbasa into 1/2" slices. ( cut on a bias to make longer slices )
Brown Kielbasa in pan with remaining Olive Oil.
3 - Add the Beer & Onions to the pan, bring to a boil, then reduce heat and simmer uncovered for 20 minutes.
4 - Remove Kielbasa & Onions from the pan, and place on serving dish.
6 - On high heat, reduce Beer to 2 cups. ( if necessary )
7 - Pour Beer over Kielbasa & Onions and serve.
Serves 4 - 6