The Brewmaster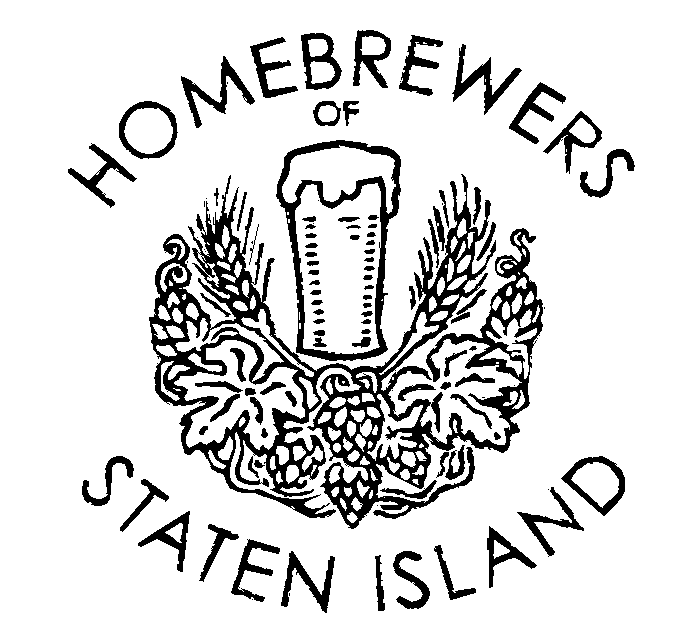 Homebrewers of Staten Island
Providing Brewing expertise to the Staten Island Community
Welcome to the August HOSI Newsletter
Welcome to the August issue of the Brewmaster, the official newsletter of the Homebrewers of Staten Island. This publication is a "work in progress" and will hopefully get better each month. New for August is the Club Calendar, as well as submissions from various club members.
Inside you will find our first two submissions, a historical commentary on December's Pub Crawl and a piece on Summer brewing by Ted McIrvine. I am hoping that many more HOSI members will submit something to this publication. Send me your recipes, questions, and comments. We will use them all! Remember, this newsletter is more than just a piece of paper that announces when the next meeting is. Since we meet the first Thursday of each month at Schaffers there is very little doubt about the where's and when's ! Let's make THE BREWMASTER a publication of such quality that other Homebrewing Organizations request copies!
July's meeting had a much greater turnout than June's. Amongst the issues discussed was our lack of a President, and issues involving Incorporation. It appears that Incorporating may help the organization against liability suits, but will not be as effective in protecting the officers of the Club against suits. We are still awaiting word on the exact benefits of Incorporation.
We also discussed possible field trips to Budweiser's Newark brewery and the opening of Ommegang Brewery in Cooperstown. More on this in the next issue.
Once again HOSI will be hosting it's annual roast. Set in a bucolic wooded site on Orhbach Lake, in the heart of the Green Belt, the roast will be held at the Pouch Camp's Berlin Lodge. The event begins at 2pm on Saturday August 9th. Please use the Manor road entrance. The event will be held rain or shine.
The menu will include: A roast (beef we are told), burgers, hot-dogs, clams and corn. Beers include Sal Pennacchio's very tasty Peach Wheat, Bitburger Pils, and whatever beer is donated by member.
Prices are:

$45/couple (members)

$55/couple (non-member)

$30/person (member)

$35/guy (non-member)

$25/gal (non-member)
All are encouraged to bring a "pot-luck" item. If you can't bring something you will be asked to pay an additional $10 at the event.
Payment MUST be received by August 1st. There will be no exceptions! Please remit to East Coast Brewing. Call Steve@979-0641 or Ken@667-4459 for additional details.
August Meeting Information
The August meeting is scheduled to be held at Schaffer's Tavern on Thursday July 7th at 8:30pm..
Calendar of Events:
Aug. 9th - Summer Roast
Sept. ? - Opening of the Ommegang Brewery in Cooperstown, NY. A possible roadtrip is planned. Look for details in the next issue.
Sept. 27th - Oktoberfest: Open to the public. Menu includes such German staples as Hossenpheffer, wursts, and sauerbraten. Both Commercial and homebrew will be served.
Summer Brewing Belgian Style! By Ted McIrvine
Summer brewing poses no problems for those with central air-conditioning or a designated beer refrigerator. And even those with a designated beer refrigerator will find performing a triple decoction mash to make German lager akin to taking a very long sauna with clothes on. But what should the rest of us beer addicts brew when our basements --- dry and 55 Fahrenheit during the winter --- become 75 degrees with fungus waiting to jump into our brews? There are some brews that withstand the heat and wild yeasts of summer, especially some Belgian-style ales. Two broad classes of Belgian home-brews are frequently brewed by homebrewrs:
Category S (1063-.095 G) which includes Belgian Dubbel and Tripel, category I(1.04-1.05 SG which include the spontaneously- fermented lambic ales. While summer can be a good time to brew Dubbel and Tripel (in part because they ferments thoroughly with excellent ester-producing qualities at temperatures above 65degres), it is the lambics that tolerate wild yeast and the high temperatures most easily. The lambics include a young lambic called faro, a blend of young
and old lambic called "gueuze" (pronounced almost like the word "cursor" with a New York accent and a guttural c), and the fruit flavored lambics such as kriek (cherry), framboise (raspberry), and peche (peach). The
base recipe for all are similar: 33%-40% wheat malt, stale European hops
with a low alpha acid rating, pale color, and a gravity between 44-54.
It is important to mash to maximize fermentability. I use a grist of 6 lb. pale malt and 3 lb. wheat malt and mash at 145 Fahrenheit for about 2 hours. To come closest to the minerals and acidity in waters of southern Belgium, 1-2 tablespoons of magnesium sulfate and gypsum are good to acidify the mash. Before sparging, add enough boiling water so that the mash does not linger in the temperature zone between 150 and 170 degrees. Some brewers like to sour mash one or two pounds of grain for several days although this is not a typical Belgian practice.
The boil should be short enough to minimize kettle caramelization, but long enough to drive off any hop aroma if your hops aren't stale. For hops, I typically use a mixture of old Saaz and Goldings along with a low-alpha German hop such as Tetnang or Hallertauer. 1.5 to 2 ounces is ideal. I add all the hops at the beginning and boil for about 90 minutes.
Ideally, at least three yeasts are used: a neutral yeast for primary
fermentation such as W-Yeast American ale yeast, some wild yeasts such as Brettanomyces Bruxellensis for a long secondary fermentation, and a third yeast at bottling that is fresh and clean. Primary fermentation may be short during the summer, after a few days you will need to get your beer off the yeast before it autolyzes. The secondary fermentation may last several months, and lambic yeasts take longer to work. (If you are culturing lambic yeasts, boiling a bit of apple juice along with the malt extract will provide proper nourishment. A film over the beer is good sign. Be careful not to disturb the film as lambic yeast is anaerobic and performs best when the oxygen is sealed out.
There are several ways of using fruit if you are making a fruit lambic. Adding six to eight pounds of fruit to the secondary fermentation works well, and the flavor can be boosted by adding concentrated flavorings at bottling. If you use fruit juices, these should be added at the beginning of the secondary fermentation.
Sanitizing after making a lambic ale is very important. Lambic yeasts are tenacious, and the best sanitization involves a long soak with chlorine bleach followed by a good rinse with iodophor. I also use a different racking cane, hose, and bottle filler to keep lambic yeast out of normal beer.
For more information, see Jean-Xavier Guinard, Lambic (Boulder: Classic Beer Styles Series #3, Brewers Publications, 1990).
------
Ted McIrvine won second prize for light Belgian ales with a Kriek Lambic in the 1996 Big Red Homebrew Competition and second prize for a Framboise Lambic in the 1997 New York Regional Competition.
Once Upon a Pub Crawl
Once upon a time on December 29th, 1996 there were four HOSI members: Kenny, Frankie, Philly and Johnny G. The four were big men with nothing much to do, and were very thirsty. "Hey how 'bout a day long pub crawl in the BIG CITY," said Kenny. "Hey how 'bout we bottle some beer and drink that," said Frankie. "Hey how 'bout we drink some of my new beer," said Philly. "You can really taste the lager!" Johnny G. just said: "I like Kenny's plan." And with that they were off.
The four big men took a much bigger boat into the BIG CITY. Philly didn't really know how to get anywhere on the subway even though his son works for the MTA; but Frankie knew what to do. They went to a special place of the BIG CITY called the EAST Village. It was a magical place where it's okay to dress in strange clothes, put pieces of small metal in all sorts of areas of your body (this is called body piercing), and men can have a boyfriend and a girl friend at the same time. They went to a place on a street called St. Mark's Place, which sounded kind of redundant to Kenny but "what the hay" he thought. It was a nice sort of pub with lots of wood and a real English feel to it. Kenny and Frankie tasted a beer called Boddington's, while Philly and Johnny G. tried Oregon IPA. Philly and Johnny G. liked theirs because it was fresh. Kenny and Frankie like theirs, but can't remember why exactly. I guess they thought it was the right beer to have in an English type place.
These four big men then went to the Telephone Bar, not very far away really. It was a nice walk past the body piercing shops… news stands… and weird clothing stores. Johnny G. and Frankie almost convinced Philly to pierce his lip; but Kenny said he would be embarrassed. The place they had lunch was very good. Again it was sort of an English kind of place with paintings and lots of wood. There was even a telephone when they walked in, and Kenny said: "Boy, that's BIG!" The four ate lunch and had beer, of course. Kenny had Shepherd's Pie and a Fuller's ESB. So did Philly. Johnny G. had a Ploughman's Lunch and a Fuller's, while Frankie said he wanted to be different, so he ate Fish 'n Chips and had a Pilsner Urquell. The place was so good that some of the men had more beer, and began to talk about what they thought the perfect urinal would look like. It might sound silly, but this was their conversation for the rest of the day.
Well… soon they decided to leave and go onto two other places. First was DBA, on a big street called First Avenue. They all had beer of some kind which was quite good, but by this time Johnny G. (who was supposed write this story) forgot what they were drinking, so… you get the idea. DBA was nice because it had the right kind of urinal and they had lots of beer. It also had many kinds of Scotch whiskey; despite the fact they did not drink any, the four men liked reading about them on the BIG BLACKBOARD behind the bar . The last place the four big men went to was called Burp Castle, not really a castle so much as just a bar with lots of pictures of angels and cherubs having fun. There was a man serving beer, and he had a brown robe and looked religious even though I don't think he was. Everyone had beer and a good time. Most of the beer was okay, but some of it tasted like cardboard, which Frankie said means that it has oxidized. (You know he's a Certified Beer Judge! He knows these things.) Philly didn't like his beer. It was called Paulaner Alpine Extreme. He did say he like it's name though.
As they rode home on the big boat they thought and talked about their day in the BIG CITY and were very glad they had completed their pub crawl. They had beer… they had food… and they had fun! Next year maybe more HOSI members can come along.
---- by Anonymous